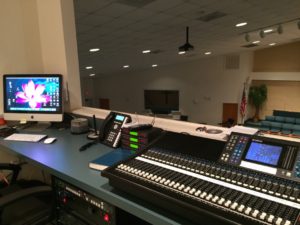 This team is an integral part of our worship experiences. There are three places on this ministry where you might serve: sound tech, screen slide display control and videography. Experience is helpful but not required. We are happy to train!
The church uses a
Yamaha LS-9
sound board for mixing sound during worship. We need volunteers to run this during our 9:00am, 10:30am and 6:00pm services. We run our display slides using
Pro-Presenter 5
software on an iMac computer. Volunteers are needed to run all three Sunday services as well. Our newest AV team is the videography team. We currently are using an iPad equipped with the
RecoLive
app as a video switcher to control two remote iPod touches (as cameras) mounted to
Galileo remote control
tripods. Currently we record the 10:30am and the 6:00pm services.
The church uses Planning Center Online to maintain schedules. You can work as much or as little as fits your schedule. Please contact Herbert Beck at hbeck@shindler.org if you think this would be a good place for you to serve in ministry!