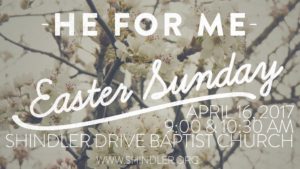 We hope that you will join us for worship at Shindler on Easter Sunday! You don't even have to worry about dressing up. We'll have people in suits and Easter dresses and we'll have people in flip-flops. The most important thing is that we'll have people worshiping the King and we hope we'll have you with us!
Child care is available to children of all ages. The choir and orchestra are going to be tuned up and ready to lead in worship during the first service and the band and worship teams will be ready to go in the second singing exciting songs like This is Amazing Grace, Stronger, What a Beautiful Name, and classic hymns like Crown Him with Many Crowns. Pastor John will be challenging and teaching us from the Word of God in both services from Genesis 22.
Join us as we worship Jesus and explore what He did for You!