We would love for you to join us for this life-transforming trip to the Holy Land. My dad, Dr. Herb Reavis Jr., will lead us on a journey following the footsteps of Christ. On this trip the Bible will come alive in ways you never thought possible and it will dramatically impact your daily walk, prayer life, and understanding of Scripture for the rest of your life. The trip will begin on March 14, 2022.
Save the date and bring a friend!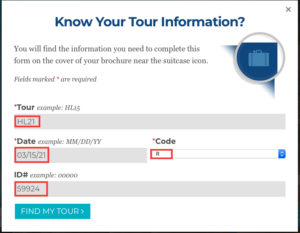 1) Click on the button above to be taken to Educational Opportunities Tours Website
2) Click on the "Know Your Tour Information" button to the right of the "Find a Trip" search bar.
3) Complete the form with the following info:
(See example to the left)