The men's ministry of Shindler Drive Baptist Church seeks to grow men in their faith. We desire to be the spiritual leaders in our homes and set an example of godliness and faithfulness to our wives and children. Throughout the year we have times of fellowship, fun, and encouragement.
Upcoming Events:
Church Work Day March 28, 2015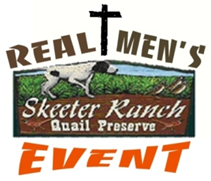 The purpose of the Real Men's Event at Skeeter Ranch is to provide men an opportunity to be encouraged by enjoying God's great creation together in a God-honoring way and to endeavor to reach those who only know of our Great God by his creation, the great outdoors. Click on the above logo to visit the Real Men's Event website and register!